Sewing Tidy with Turn Stile Thread Holders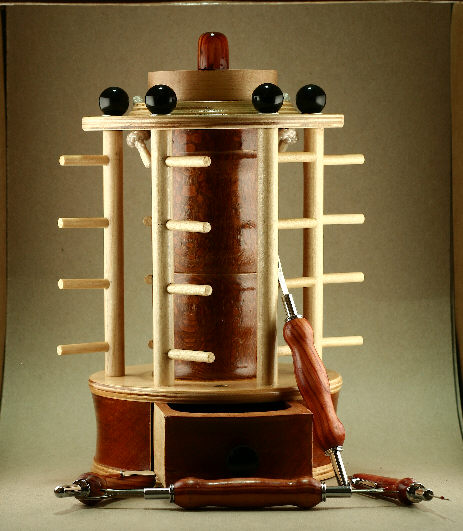 Lisa's Sewing Tiddy SOLD
Lisa and her girls knitting bowls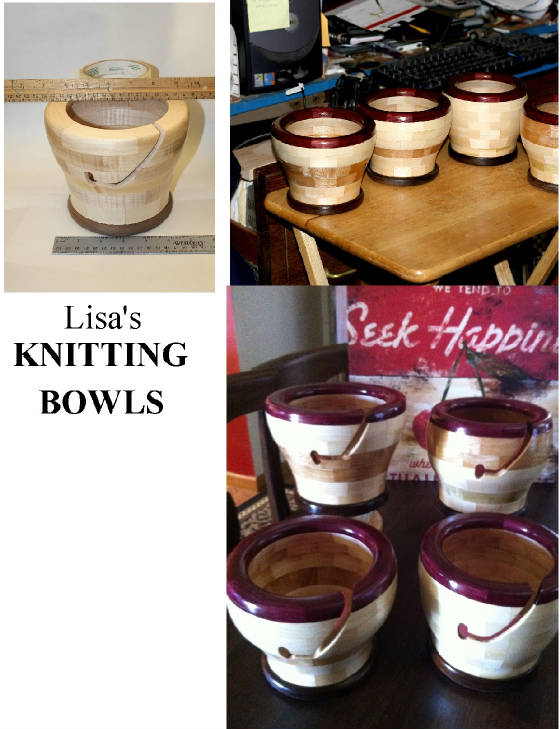 Knitting Bowls for Lisa and her girls
More Feathers and stuff:
New Sun Face Kachina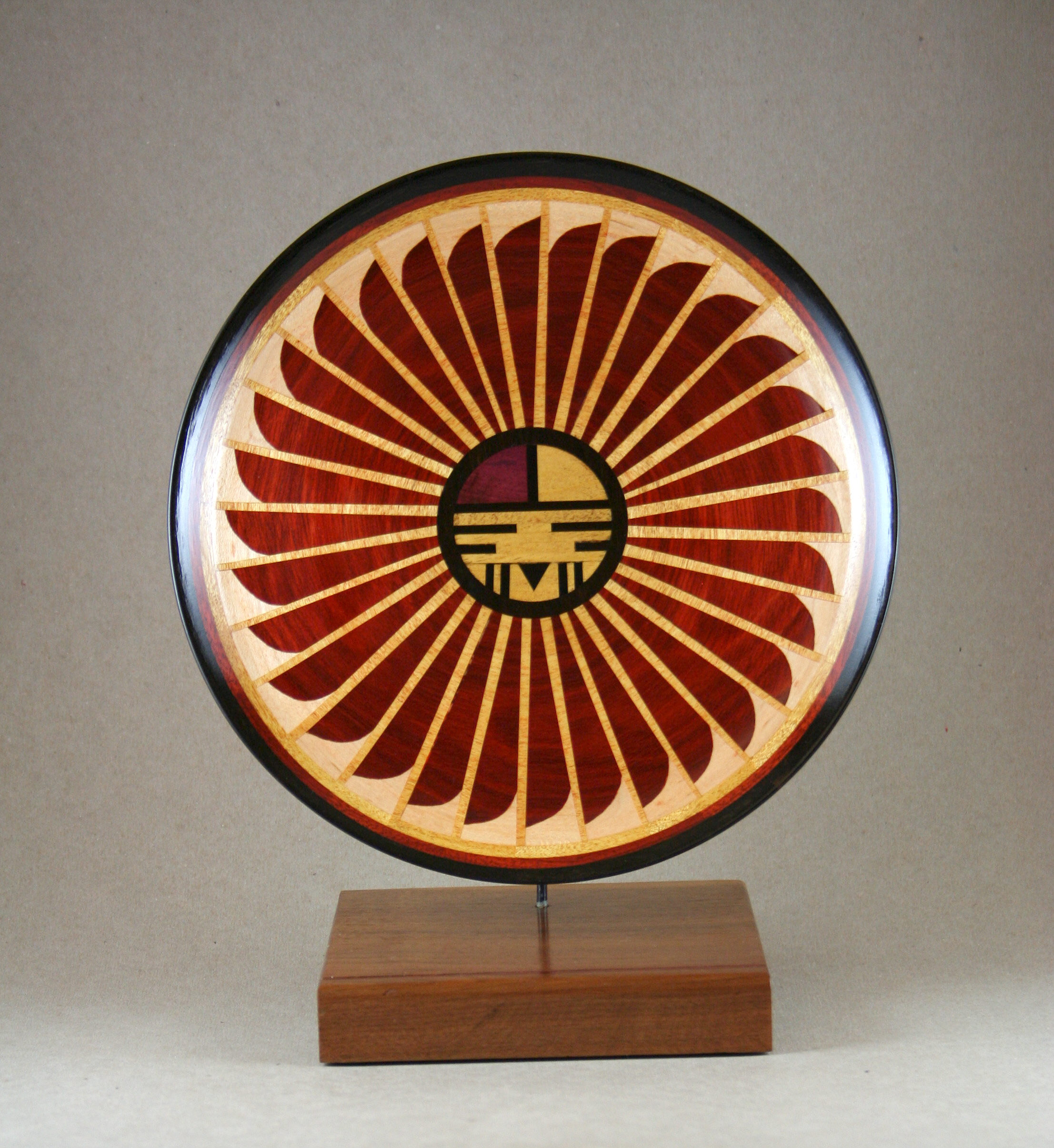 Sun Kachina 10" X 1 1/2" SOLD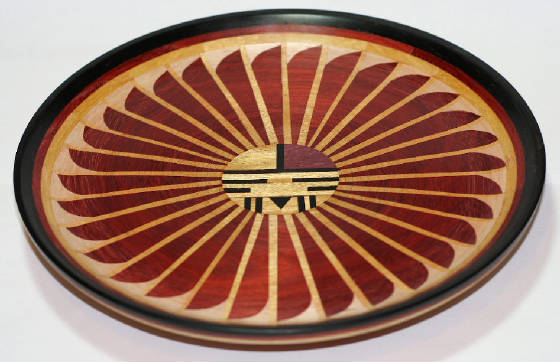 Ring of Feathers - Sun - Creator - Kachina Mask
Hopi Big Mountain SOLD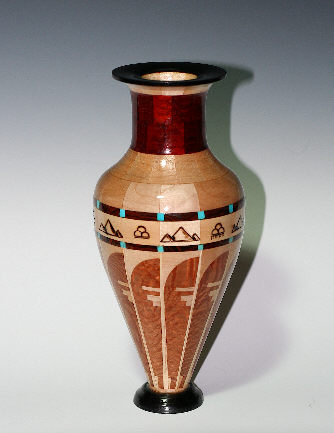 Cloud, Rain and Mountain Symbols
Southwestern Bowl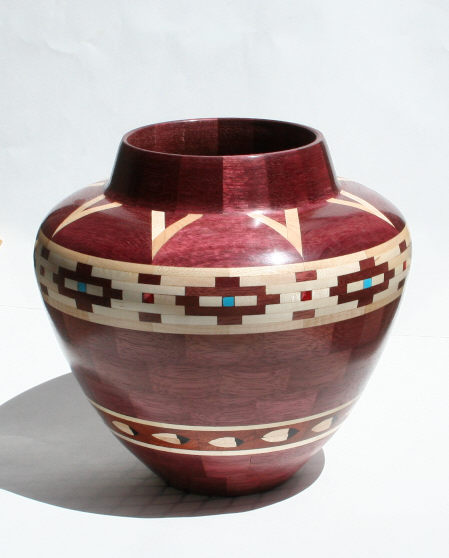 Coyote and Eagle Feathers
Broken Promises/ Navajo Genocide SOLD
Polychromatic Wood Turning by Richard E Erickson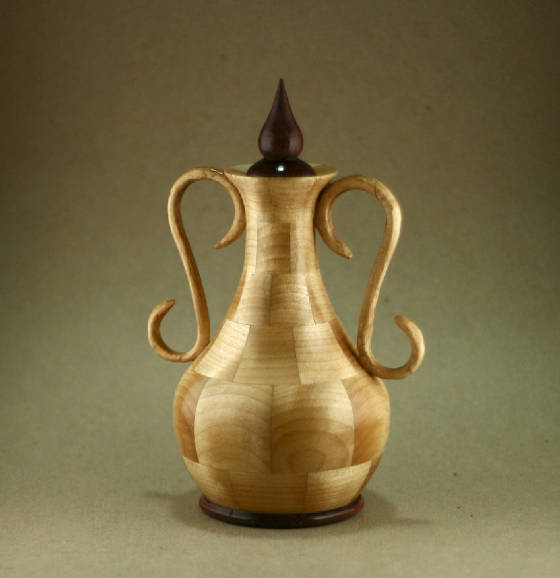 6 Agate Bird Points
Vase is Yellowheart and Purpleheart, standing 11 1/2" tall and 5" wide.
Ring of Feathers with Bird Points SOLD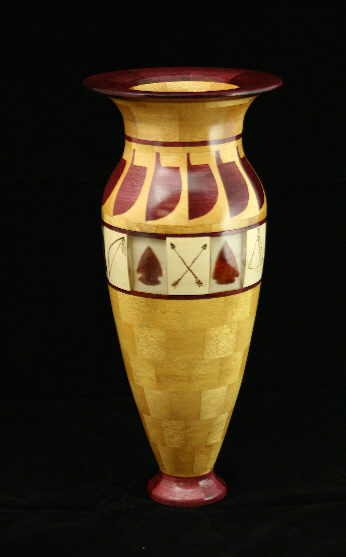 Bird Points SOLD
Coyote Tracks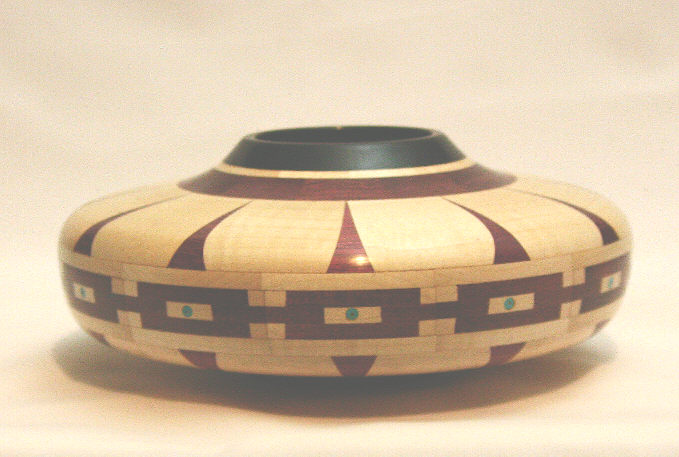 Polychromatic segmentation 8 1/2 " by 3 3/4"
Night and Day Creator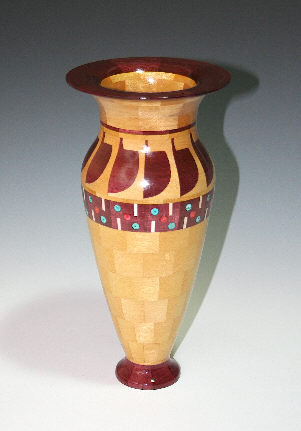 Sun and Moon(night and day) Ring of Feathers (Creator)
Woodpile Emergence - Wall Hanging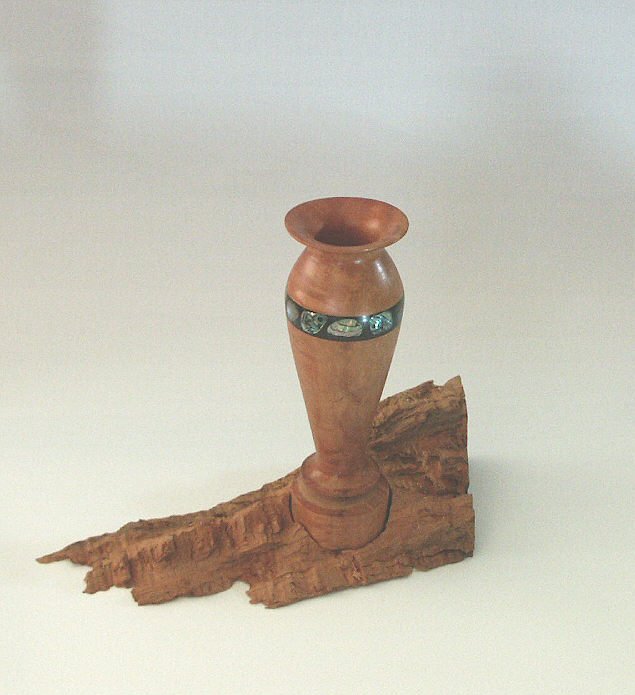 SOLD
Paua Shell and Mother of Pearl Shell - ALL SOLD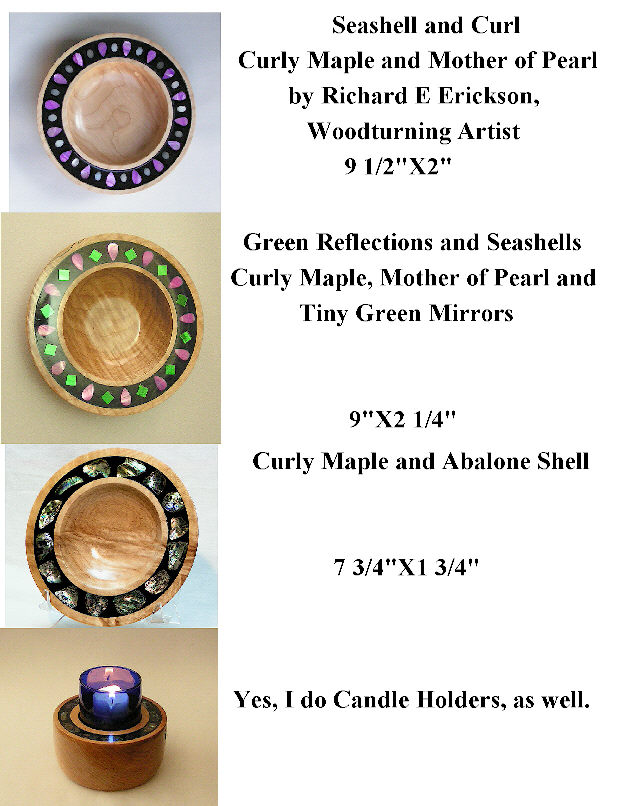 Contact me if interested. Low cost items - go fast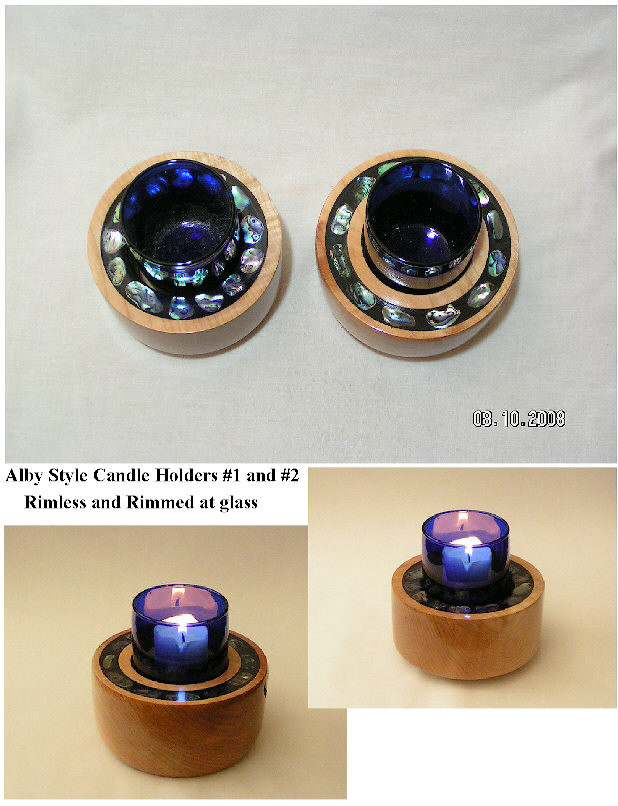 Gone to a private collector
Paua Shell Ring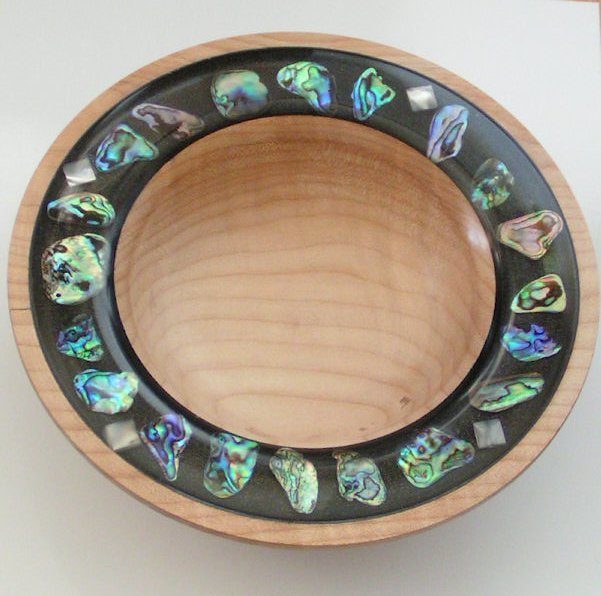 Rimless. Now in a private collection.
Sacred Portal Urn
Sacred Portal is SOLD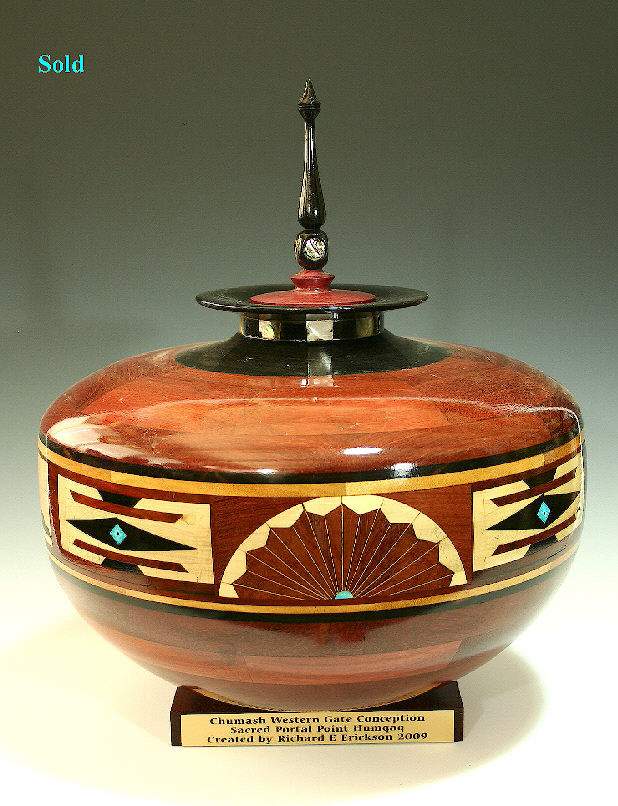 Sacred Portal
Rain Mountain and Butterflies - - - - - - - -SOLD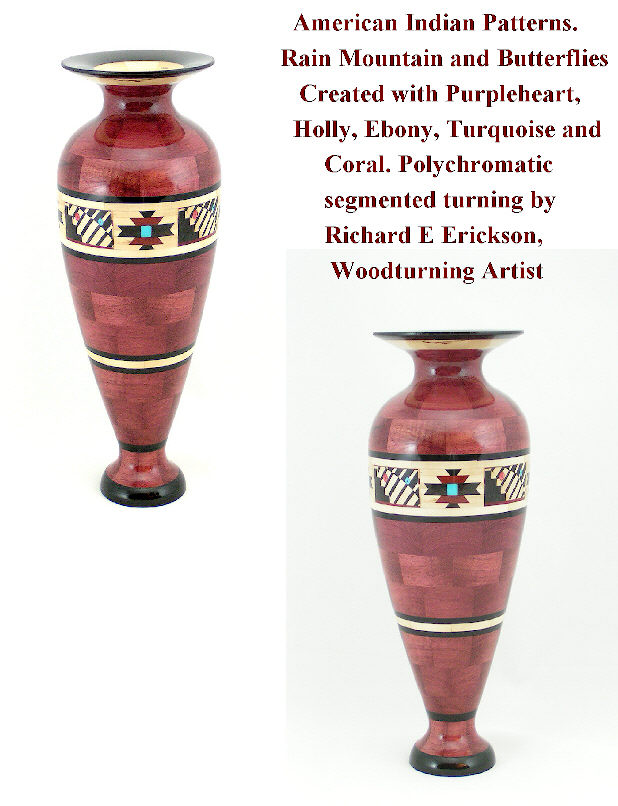 SOLD Rain Mountain and Butterflies is being shown at the Santa Barbara Art Festival Oct 12th - 14th
Eagle Wings and Tail Feathers Seed Jar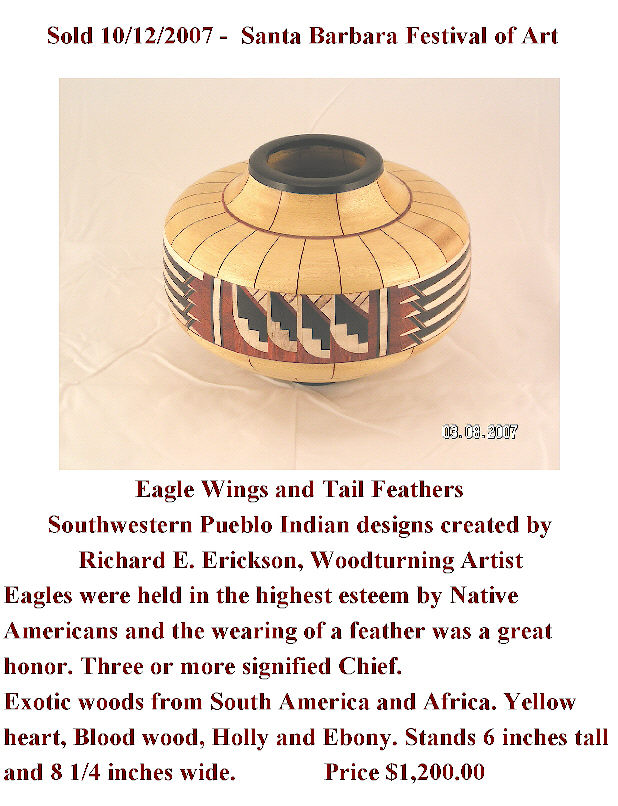 SOLD - Eagle Wings and Tail Feathers is SOLD 10/13/2007
Ring of Feathers Vase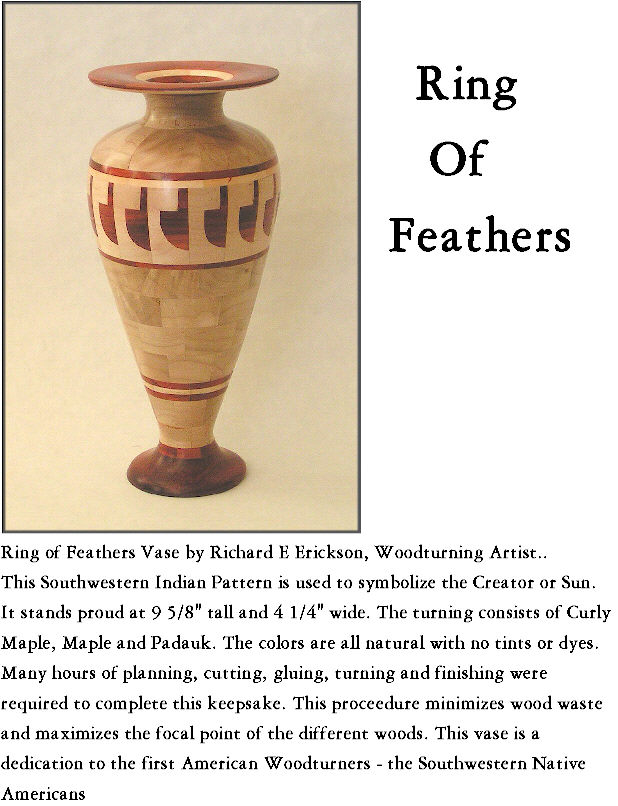 Creator or Sun
Sacred Urn
Chumash Indian Circle of Life Pattern. Created by Richard E Erickson. Ten inch Tray. Bloodwood, Maple, Ebony and Turquoise. Basket weave pattern on one side only. No tints or dyes used.
Apache Style Tray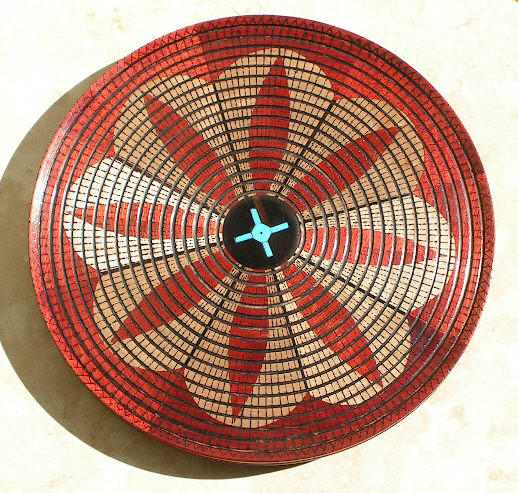 Tray is plaine on one side and Basket weave on the other
14 1/4" by 4 1/2" Egyptian Pattern Vase. Purpleheart, Ebony, Holly and Maple Veneer. Sorry, this item has sold to a private collector.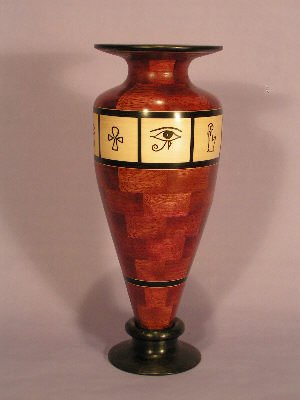 Elegance. A 12 1/2" by 4 1/2" flaired lip vase. Purpleheart, Ebony, Holly and Turquoise. SOLD 05/23/2006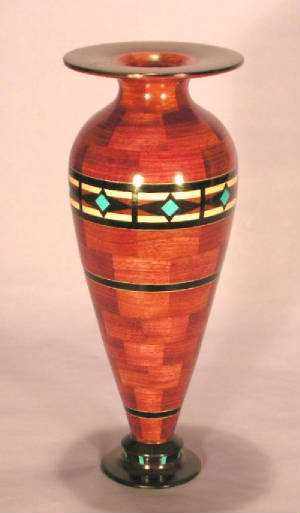 Turquois Butterflies of the Pueblo Indians style. Polychromatic segmented turning of Exotic Woods. No tints or dyes. Ebony, Purpleheart, Yellowheart, Bloodwood, Holly and stabilized Turquois. Signed and dated. 6" high by 8" wide
Sorry, this piece sold 10/15/05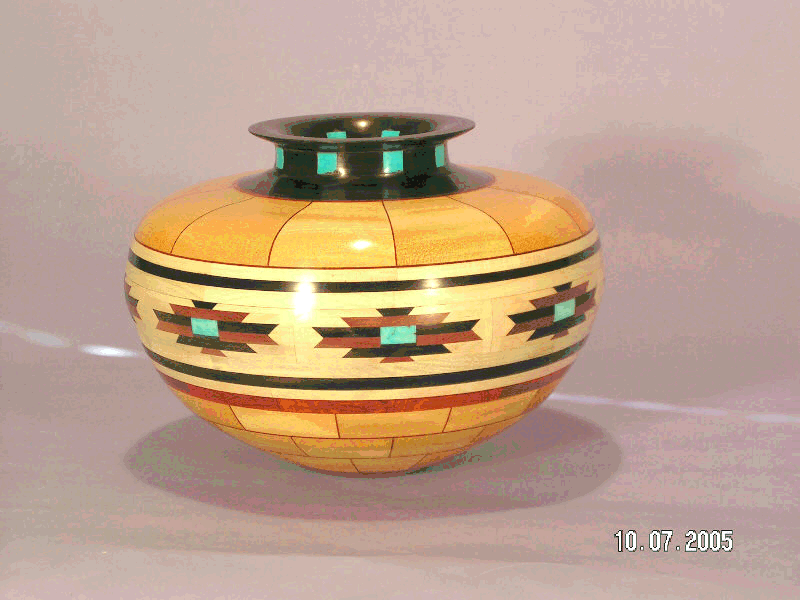 Zuni Sun Face - SOLD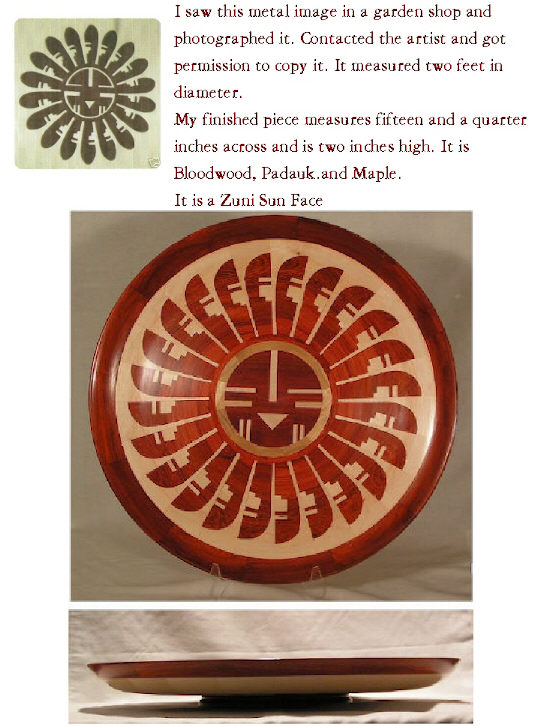 Now in a private collection